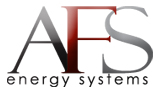 AFS Energy Systems, Lemoyne, PA designs, manufactures and installs modern, advanced biomass (solid fuel) boilers and thermally-led combined heat and power (CHP) systems that replace existing fossil fuels. (oil, propane and natural gas). Savings of up to 70% over fuel oil are not unusual.
These modern wood thermal energy systems are custom designed to utilize locally resourced inexpensive biomass waste wood primarily from the wood products industry (timbering, logging, lumber mills, pallet manufacturing, furniture-making operations or other related processes. Other waste streams diverted from landfills can also be an option depending on BTU content, emissions and other considerations.
EMS CONSULTING is an agency rep for AFS Energy Systems. Contact us to learn more about how you can generate your own electricity and use the heat generated to heat your processes and buildings. See AFS Energy Systems on the Services web page for more information about EMS CONSULTING's relationship with AFS and several of their key people. Click here to access AFS Energy Systems' website.